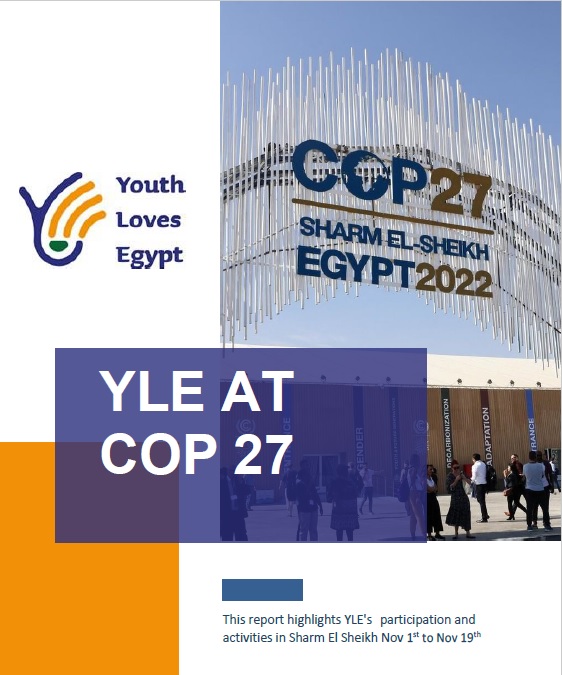 About YLE Foundation
Operating in Egypt, YLE Foundation is a leading foundation that focuses on advocacy and raising awareness on climate change, environmental issues, and climate justice. At YLE Foundation, we strongly advocate for SDG goals 6, 10, 13,14,15 and 17.
Founded in 2020 by a group of youth led by Mr. Ahmed Fathy, YLE Foundation strives for a clean environment, clean air, clean water, protected land areas, and climate justice.
YLE Foundation works to influence people, businesses, and decision-makers. We organize large environmental campaigns; we build strong partnerships with several government institutions, business organizations, and civil society organizations, and we access media and social media to present environmental and sustainability models.
Within the framework of preparations for the launch of the International Climate Summit COP27, YLE Foundation conducted many activities in the Blue Zone, Green Zone, Sharm El Sheikh shores cleanups, and peaceful marches for the climate justice cause. This report will highlight our participation and activities in Sharm El Sheikh from the 1st of November until the 19th of November.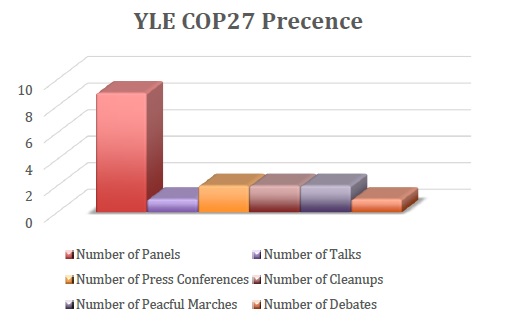 | | |
| --- | --- |
| Total Number of Empowered Youth | 16 |
| Number of Civil Society Organization Participating in COP 27 under YLE | 10 |
| Number of Number of Egyptian Participants in the Climate Justice March | 100 |
| Number of Sessions conducted by YLE team | 5 |
| Number of Sessions conducted by Mr. Ahmed Fathy | 7 |
COP27 Highlights
COP27 was an opportunity to network and share our successes and roadmap with other foundations, NGOs, activists, intergovernmental organizations, and most importantly governments as the major decision maker in the climate profile. The following is highlights of our networking activities:
Meeting: The French President Emmanuel Macron
We discussed many issues including enhancing finance required for adaptation and loss and damage sectors as well as empowering youth in climate action. In this meeting, we shared our views, suggestions and concerns as well.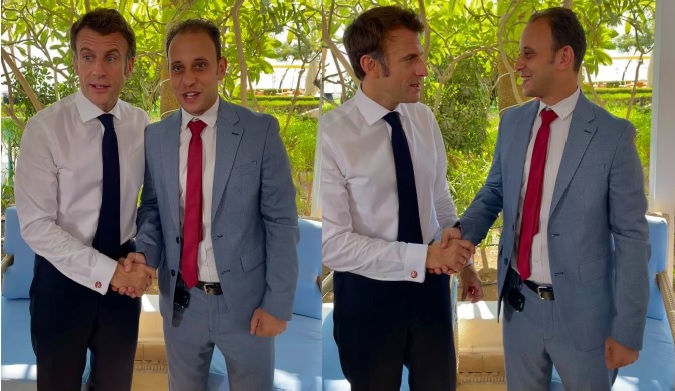 Meeting: The United Nations Secretary General António Guterres
On the sidelines of our participation at COP27. We got a generous opportunity to attend a meeting with H.E António Guterres the United Nations Secretary General to represent our opinion and represent the ambitious Egyptian climate youth activists along with other youth from around the world.

Meeting: French Minister of Europe and Foreign Affairs Catherine Colonna
During COP27 we met H.E Catherine Colonna the French Ministry of Europe and Foreign Affairs. France has represented an initiative of engaging with youth and a huge interest in supporting climate action, therefore we participated in many meetings with the French government to represent the Egyptian youth efforts in climate action.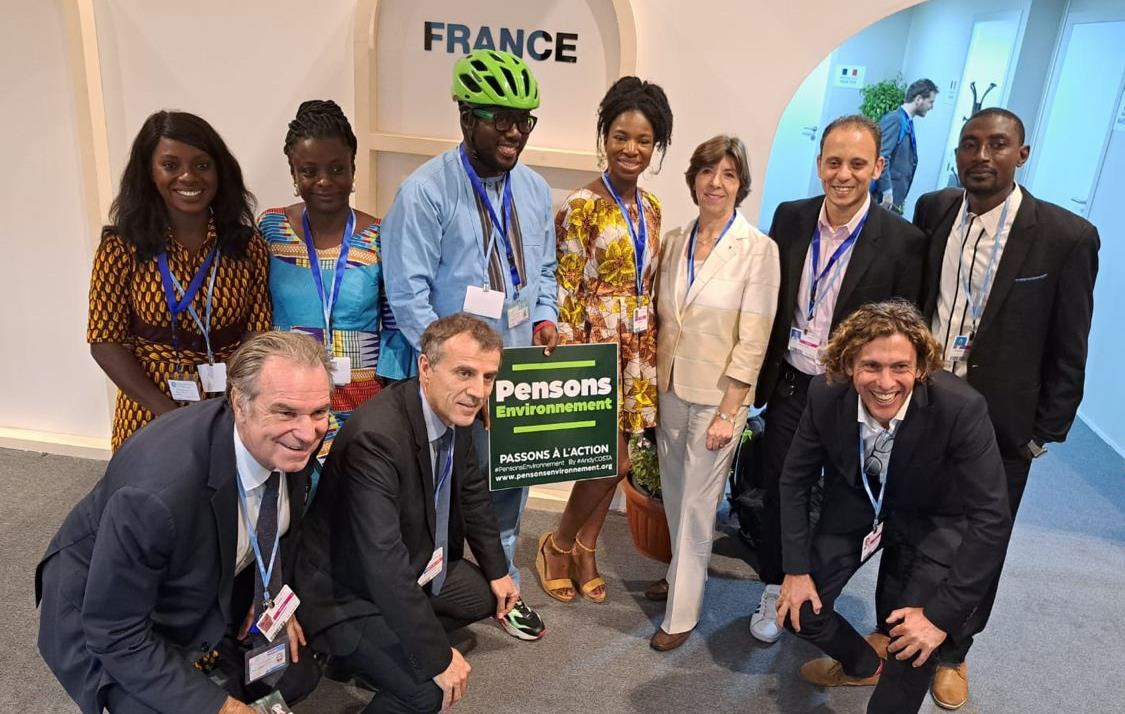 Interview: U.S. Embassy in Cairo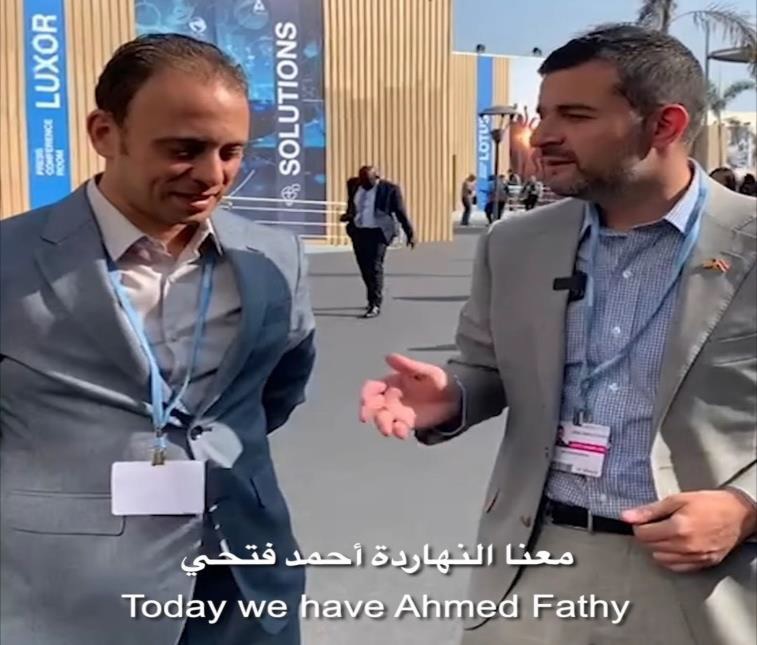 "Our future relies on actions of today. This is why young people in Egypt, such as Ahmed Fathy and members of Youth Loves Egypt actively participate in Climate Action. Listen to him talk about climate & how he thinks U.S.-Egypt partnership can lead us towards a sustainable future" said by the U.S. Embassy in Cairo Reporter
Interview Link: https://lnkd.in/dJ9e3pKH
Pre-Cop27 Cleanups
The foundation conducted cleaning campaigns on the beaches of Sharm El-Sheikh with the participation of more than 50+ volunteers from the Foundation's team in cooperation with a team of volunteers from the youth of South Sinai Governorate under the supervision of the governorate and the presence of media coverage from several channels and news pages to represent our role in the community and raise the locals' awareness regarding the climate crisis and COP27.
The first campaign was on Taba beach on November 1, 2022. With the participation of our team volunteers and Sharm El Shiek's local high school students. The second cleanup occurred at El Montaza Beach on November 17th, 2022. Our team volunteers with our Egyptian Council for Climate Changes partners and other civil society representatives. In both cleanups, the volunteers collected all the plastic waste from the beach and then returned to the city center square to fill in our YLECOP27 mockup. The mockup dimensions are 6 m * 2 m * 0.3 m in the city hall square to raise awareness about plastic waste and emphasize the severe damage caused by plastic to the community to all Sharm El Sheikh residents, visitors, El Malek Salman University Students, COY17 attendees, and Schneider Electric Innovation Hub visitors during the COP27. The mockup was giant, but you could still count the items inside, which meant describing how much small plastic bottles would take up space in our oceans or landfills in the best scenario. Also, the mockup was transparent to see how all the waste collected from the beach is very familiar to everyone, and they're all our favorite brands, so our acceptance of them is part of the problem.
Still, our cause is extended to address waste collection, sorting, pretreatment, and recycling. We collected around 330 kg of plastic waste from volunteers and locals for 16 days.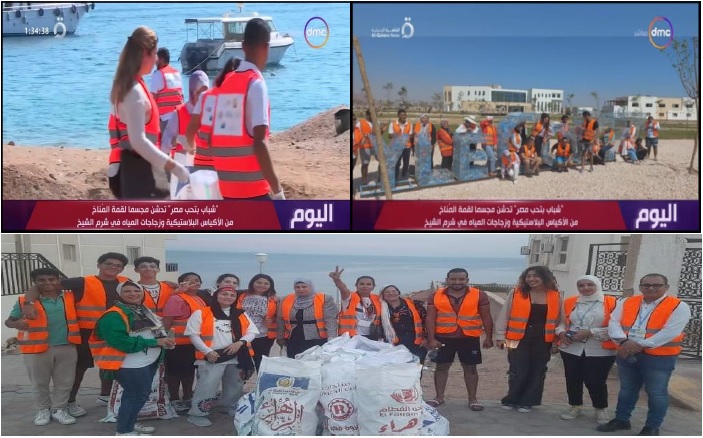 Climate Justice Torch
Date: 4th of November 2022
Location: Sharm El-Sheikh
Outcome
YLE sponsored a march for climate justice during the last day of COY 17, 4th of November 2022. During this march, more than 100 youth individuals called for climate justice, 75 of whom were invited by YLE to the closing of COY 17, represented by this march.
Gallery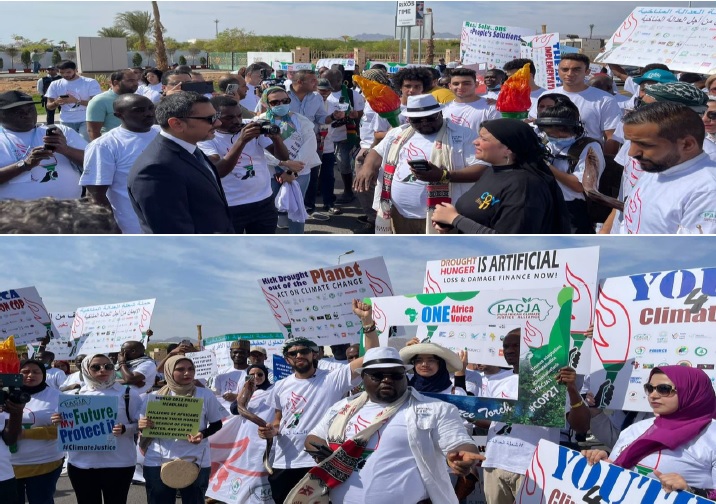 COP27 Activities
During COP27, the foundation actively participated in many sessions to deliver our cause, beliefs, and activities. We will go through the highlights of the sessions as follows:
Press Conference: Reflecting on YLE and PACJA Role in COP 27
Date: 6th of November 2022 from 02:00 PM to 03:00 PM
Location : YLE - PACJA Pavillon - Green Zone
Outcome
This conference elucidated the role of YLE and PACJA in representing the youth and African civil society in COP 27. The conference was covered by Egyptian and generally African press and tv. Representatives from YLE and PACJA explained the roles of both foundations in supporting African society in building their capacities to face climate change and its various environmental and socio-economic impacts. The conference also highlighted the expectations of the African communities from COP 27.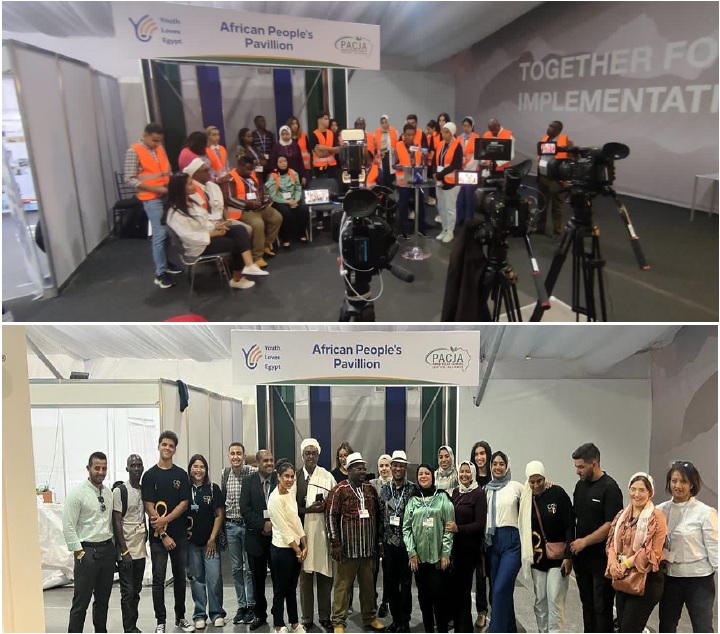 Press Conference: Defend Suffering Masses, CSOs Urge African Negotiators After the Failure to Include Region's Special Needs and Circumstances on COP27 Agenda
Date: 7th of November 2022 from 3:30 PM to 4:00 PM
Location: Press Conference Room- Luxor Area B – Blue Zone
Panelists:
Dr. Mithika Mwenda: Executive Director PACJA
Dr. Augustine B Njamnshi: Executive Director of African Coalition for Sustainable Energy and Access
Mrs. Florence Kasule: Chairperson at Network of African Businesswomen
Eng. Sohaila Nasser: Environmental Engineer and Youth Love Egypt foundation representative.
Mr. Loki: Young Activist from Nigeria and member of PACJA
Moderator:
Eugene N. Nforngwa: Lead Expert, Just Transition and Energy Access at Pan-African Climate Justice Alliance
Background: PACJA Released Statement:
Africa is a region with special needs and circumstances under international climate law. The region suffers more server climate change impacts than most parts of the world mainly because it is exposed to unrivaled weather extremes, is heavily dependent on climate-sensitive sectors such as rain-fed agriculture for economic services and livelihoods and has the least capacity to respond adequately to climatic stresses due to chronic poverty. Because the continent is warming roughly 1.5 times faster than the global average, it is exposed to disproportionally severe impacts even at a safe global warming threshold of 1.5 degrees Celsius. As the least industrialized and lowest energy-consuming region of the world, Africa accounts for 4% of global emissions. Recognizing this exceptional blend of circumstances in international climate change negotiations is critical for raising climate action ambition, especially in prioritizing the financing of adaptation and loss and damage. It singles the continent out from other developing regions and positions it for climate action that responds directly to its unique challenges, including and exceeding those it shares with different growing regions. But efforts to implement this recognition have been unsuccessful despite the provisions of Article 4.1 of the UNFCCC, which had been upheld in several COP decisions and reports until the Paris Agreement. In the meantime, Africa has suffered a heavy toll of impacts with loss and damage across communities and critical development sectors. Every future model forecasts a widespread and severe impact" on the continent, even with the best mitigation effort. Addressing the climate crisis can only succeed if the international community addresses the climate injustices faced by Africa. After the failures of previous COPs to truly address this concern, COP27 presented a unique opportunity to put Africa at the center of negotiations and decisions. It is now evident to us that this is no longer likely. We, therefore, call on African leaders to side with the suffering masses and take the bold decisions needed to safeguard their aspirations.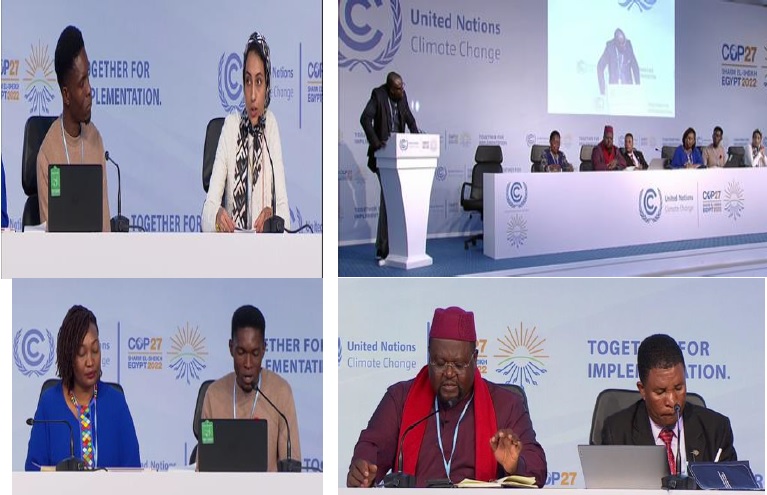 Panel: Resilience in Food Security in Africa
Date: 8th of November 2022 from 12:45 PM to 2:00 PM
Location: Food for Climate Pavilion - Blue Zone
Panelists:
Dr. Khaled Fahmy: Professor and Previous Minister of Environment in Egypt
Dr. Najoua Bouraoui: Professor at University of Tunis El Manar, Tunis, and member of PACJA
Dr. Gawad Kharaz: Head of RECREE
Dr. Mithika Mwenda: Executive Director PACJA
Moderator:
Dr. Mohamed Abu Elaineen -Deputy speaker of the House of Representatives
Background:
As the impacts of climate change continue to intensify and global shocks upend business as usual, Sub-Saharan Africa is feeling the brunt of what has been coined the perfect storm, a food, fuel, and fertilizer crisis exacerbated by the war in Ukraine, scarring effects from the COVID-19 pandemic, soaring inflation, rising debt, and extreme weather. While inflation levels urgently need to be tamed and the burden of debt made more sustainable, perhaps no priority is more pressing than addressing food insecurity to safeguard the calorie and nutrition needs of Africa's one billion people and protect their human development. At least one in five Africans goes to bed hungry, and an estimated 140 million people in Africa face acute food insecurity, according to the 2022 Global Report on Food Crises 2022 Mid-Year Update. The Horn of Africa is suffering from persistent drought. Countries that depend on Russia and Ukraine for wheat and sunflower oil imports have seen prices skyrocket out of the reach of ordinary people. Multiple shocks across West Africa, primarily induced by agricultural risks, have made food scarcer and more expensive and increased malnutrition. In 2021, approximately 27 million West Africans needed immediate food assistance due to drought, poverty, high cereal prices, environmental degradation, displacement, poor trade integration, and conflict. Sobering predictions of more frequent extreme weather events, coupled with agricultural productivity that is not keeping pace with population growth, means long-term sustainable development is under threat. Food crisis prevention and management are best achieved at a regional level to mitigate, diversify and transfer production risks and allow for economies of scale.
Theme of Discussion:
Opening: Mr. Ahmed Fathy
Short Speech: Mithika Mwenda (Challenges facing agriculture in Africa related to water & technology)
Short Speech: Gawad Kharaz (Energy use & its importance in Agriculture)
Short Speech: Najoua Bouraoui will talk about gender equality and the role of African women in the agricultural sector and feeding the continent.
Moderation: Dr. Mohamed Abu Elaineen
Questions:
What do modern farmers need to be more resilient against climate change losses and effects on their crops?
What is the role of the private sector in Food security issues?
What is the role of African Women in the agricultural sector? And how does the Climate crisis affect them the most?
How could gender equality be achieved, and how to support female farmers under stress?
How could investors be encouraged to invest in agricultural and food security projects?
How could job creation help in achieving sustainable livelihoods?
Outcomes
The session started with a short opening word from Mr. Ahmed Fathy, founder of the Youth Loves Egypt foundation. He began by mentioning how modern farmers suffer from substantial financial losses due to climate change issues that affect the yield of crops. He stressed the importance of civil society in solving agriculture issues. He added that he is glad the COP27 presidency added loss and damage to the agenda. After that, Dr. Jawad responded to Dr. Mohamed's question regarding energy's role in the food security issue. Jawad mentioned that according to the Food-Energy-Water nexus, we could not prioritize food over water, and energy resources and solutions should be integrated. Without energy, we cannot cover the food supply chain. He added that the future of using renewable energy sources is promising, e.g., solar pumps for agriculture. He also mentioned that 4 billion dollars are lost annually as crop losses due to the lack of infrastructure, e.g., refrigerators. After that, Dr. Mohamed gave the mic to Dr. Najoua. She said we must involve youth in green projects to make Africa more resilient to climate change. She added that the agriculture sector has many women working to feed their children and families. After that, she said that we need to focus on women's rights and achieve gender equality in the current climate movement by providing capacity building to women. Charles after that mentioned that Africa only contributes 3% of global emissions; however, Africa receives the highest impact and damage. He said that drought waves threaten the west coast of Africa, and millions are left to die from hunger and lack of food. He mentioned that loss and damage financing is essential to help African people adapt to the climate change crisis.
Gallery
Panel: The Banking Sector and Financial Institutions Role in Supporting Civil Society Projects' Implementation
Date: 9th of November 2022 from 1:45 PM to 2:45 PM
Location: Civil Society Pavilion - Blue Zone
Panelists:
Khaled Emam: Specialist in international human rights law, a Human Rights lawyer, the Executive Director of Justice Call organization, a Co-Chair of The United Nations Inter-Agency Network on Youth Development (UN IANYD), and Co-Chair of Youth, Peace, and Security at Global Partnership for the Prevention of Armed Conflict (GPPAC) and is currently serving as organizing Partner at the United Nations Major Group for Children and Youth (UNMGCY).
Mohamed Zaalouk: Environmental, Social, and Governance Consultant at IBIS Consulting. Mohamed has been engaged in multiple development projects funded by Multilateral Development Banks such as WB, IFC, EBRD, AfDB, etc., during construction and operation across the MENA region to ensure they meet the International Financial Institutions' environmental and social standards in terms of assessment and management of environmental and social risks.
Mirko Battini: Finance Director for the United National International Framework of Youth at the Water and Climate Coalition. Responsible for financial grants and corporate partnerships, budgeting, and event management. He also served as the Finance Coordinator for COY16.
Moderator:
Eng. Tarneem Ashoush: Environmental Specialist at Integral Consult
Background:
Civil Society projects are essential to the banks and International Financial Institutions (IFIs) for many reasons: many have skills and contacts that are relevant to the banks' mission of environmentally sustainable poverty reduction; they can be critical operational partners with the banks; their alternative analyses of pivotal development issues can be instrumental; and they have vast influence among decision-makers and public, particularly in donor countries. The banks can be crucial to Civil Society Organizations (CSO) by providing opportunities for collaboration and dialogue with their governments; ensuring enhanced resources for "scaling up" or replicating proven CSO's approaches; giving information relevant to local, national, or international development strategies; and encouraging governments to provide a more enabling environment for civil society.
Theme of Discussion:
What is the role of CSOs in capacity building and raising awareness about human capital and climate change?
How do CSOs support the implementation of the SDGs of IFIs?
What is the role of banks and financial institutions in supporting youth-led organizations?
What are mult working groups? Can you please clarify their importance?
What is the role of the private sector in supporting youth-led organizations?
Do you think the current policies serve well in supporting the partnership between CSOs and IFIs?
What are the gaps in the current system? Should the current system be economy and sustainable development stakeholders?
Outcomes
The session kicked off with Mohamed Zaalouk explaining the role of CSOs in society through capacity building and raising awareness about human capital and climate change. Zaalouk continued by explaining the significant role of CSOs in supporting IFIs in implementing the SDGs. This led to discussing a different aspect of the issue: youth-led organizations. This was when Khaled Emam explained the role of the banking sector and financial institutions in supporting youth-led organizations. Emam also explained the concept behind multi-stakeholder working groups and their importance, along with the role of the private sector in supporting youth-led organizations. It was then Mirko Batini's time to discuss the current policies and how well they serve in helping the partnership between CSOs and IFIs. Zaalouk closed this discussion by examining the gaps in the current system and its potential to support the shift towards a green economy and sustainable development. There was a fruitful Q&A session after the panel discussion, where multiple attendees asked critical questions and got answers from the panelists.
Gallery

Panel: How to Apply ESG Standards in The Provision of Climate Finance for Youth Projects and NGOs?
Date: 9th of November from 2:00 PM to 3:00 PM
Location: Spain Pavilion – Blue Zone
Panelists:
Ahmed Fathy: Founder and CEO of Youth Love Egypt Foundation
Ehab Shalaby: CEO of Dcarbon
Toni Ballabriga Torregultart: Global head of sustainable business and representative of GECV, BBVA Spain and GECV
Javier Manzanares: Board member of ClimateTrade and CEO of ClimateCoin and ClimateTrade
Juan David Amaya: Fridays for future MAPA
Philippine Menager: Project officer of AmbicionCOP ECODES
Moderator:
Mario Rodriguez: Director of the department of public policies of ECODES
Background:
The session highlights the challenges and importance of ESG for green and inclusive finance, Participation of BBVA (Banco Bilbao Vizcaya Argentaria) to give inputs on the current situation from the perspective of the financial sector, the challenges and opportunities for Youth and NGOs to ess to finance and participation of MAPA Fridays For Future to give inputs on the current situation from the perspective of youth and civil society.
Theme of Discussion:
What are the challenges and importance of ESG for green and inclusive finance?
What are the challenges and opportunities for Youth and NGOs access to finance?
Outcomes
The importance of data in sustainable development reports was discussed, and it was agreed that there should be sound and transparent rules for data collection to help workers in the financial and banking sectors perform their work and thus facilitate access to that data when needed by any party. ESG's difficulties and significance for green and inclusive finance were discussed. The involvement of BBVA (Banco Bilbao Vizcaya Argentaria) to provide input on the situation from the perspective of the financial sector, the difficulties and opportunities for youth and NGOs to access financing, and the involvement of MAPA Fridays For Future to provide input on the situation from the perspective of youth and civil society. And according to the first section, it was agreed on the importance of data science to support loss and damage issues, which was a critical issue at COP 27.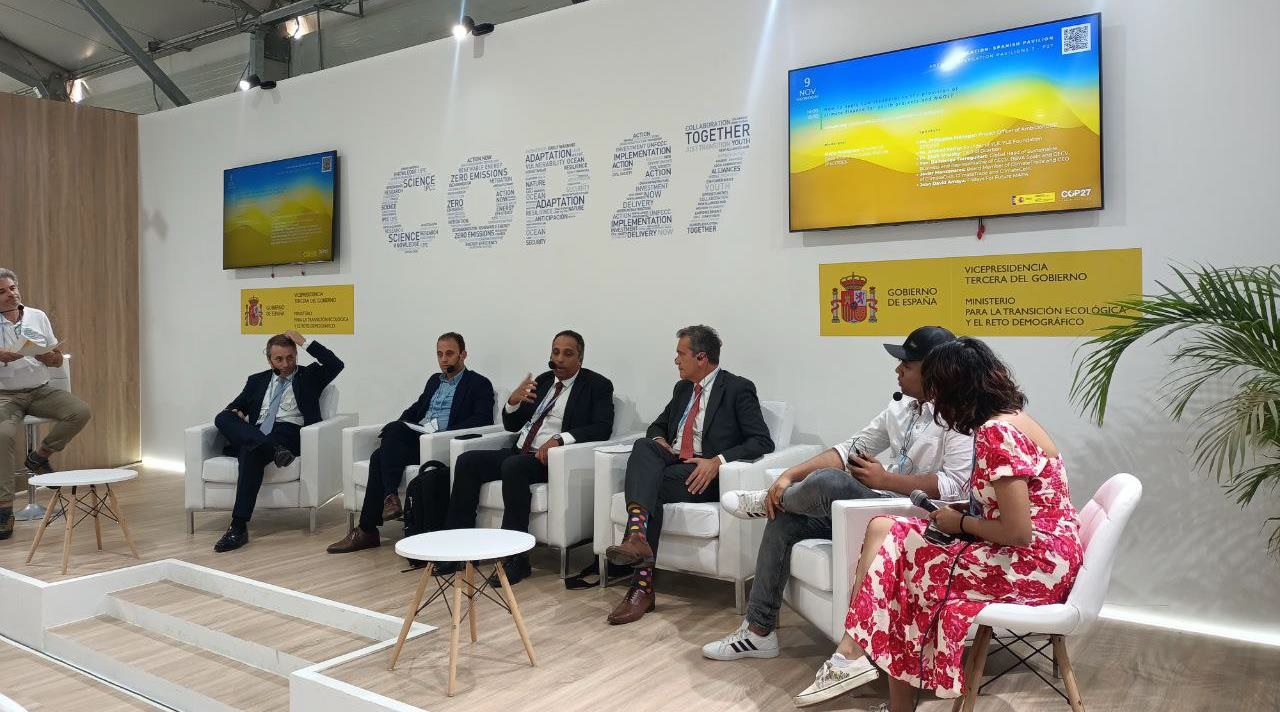 Panel: Bystanders No More: Youth Activism for The Planet
Date: 10th of November from 10:00 AM to 10:45 AM
Location: The UAE pavilion - Blue Zone
Panelists:
Hoor Ahli is an ambitious Emirati youth activist, pioneering environmental advocacy and actively participating in the COY process.
Joshua Amponsem is a Ghanaian Climate Activist whose work focuses on young people's participation in climate change adaptation, disaster risk management, and circular economy policies.
Maissam El Kouche is the Executive Director of the Arab Youth Climate Change Council
Ahmed Fathy is the Founder and Head of the Youth Love Egypt Foundation
Moderator:
Raidan ALSAQQAF, UN Economist in the UAE
Background:
This session highlights how young people actively engage in climate action across various fora, shedding light on the nature of engagements, key issues and priorities, engagement enablers, and impact-oriented measures. The discussions are anchored around the outcomes of CoY17 and key youth priorities on the road to CoY18 and COP28. It specifically focuses on accountability for results, providing benchmarks on youth participation in climate-related processes.
Theme of Discussion:
How do young people understand and engage in climate action?
What is the potential impact of youth engagements in the UAE and globally?
Outcomes
Addressing climate change can be daunting, with huge machinery to work through and conflicting interests to navigate. Yet we see more and more young people jumping at the helm and showing surprising levels of savvy engagement and political maturity. Today, we will explore how and through what channels youth are engaging in climate action and the impact of their concentrations in the UAE and globally. We asked if young people are succeeding in jolting a sense of urgency into climate action and how they can be empowered for an even more significant impact.
First, Hoor talked about the most significant impact of climate action, then Ahmed spoke about the involvement of Egyptian youth in the lead-up to and during CoY17 and the best thing that works in youth engagement for climate action. Then Maissam explained the Arab Youth Climate Change council, what it does, and the ambitions for Cop 28 & Coy 18; finally, Joshua illustrated what the UN Youth office could look here is a real hunger for concrete and transparent ways for impactful youth engagement in climate action. It is no secret that the success of climate action requires active, ambitious, and tightly coordinated youth engagement on a national, regional, and global scale. Youth has been the driving force behind many progressive initiatives and transformational changes to the negotiation process. It was young people who moved climate change on the global agenda, and we need their passion, voices, and commitment now more than ever.
Gallery
Debate: Securing Energy and Climate Change, an Opportunity, or a Dilemma?
Date: 10th of November from 1:30 PM to 2:15 PM
Location: UAE Pavilion - Blue Zone
Panelists:
Ahmed Sabaa: Environmental Journalist
Ahmed Fathy: Founder of Youth Love Egypt
Moderator: Shimaaa Ahmed Alblooshi
Background:
No one disagrees with the importance of energy and that it is an integral part of our lives. It is linked to various daily activities and operations, drives economies and supports societies.
Energy provision is of paramount importance and fundamental to the basic pillars of sustainable development, to meet human needs on all social, economic, and environmental levels. Energy is used in the industrial, commercial, and other vital sectors of countries. However, the development and economic growth that the world has witnessed in the past few decades and recent years, and the resulting excessive depletion of natural resources, especially fossil one is due to the continuous rise in demand for them. And the matter depends on more than the possibility of running out of energy sources; another form of energy-related threat, environmental pollution, has increased significantly and negatively affected the absorptive capacity of the environment and the overall ecological balance. So that all countries became fully convinced of the importance of addressing environmental problems, especially in the field of environmental protection, so the world thus faced the challenge represented in how to create a balance between environmental preservation and development.
Theme of Discussion:
Global energy consumption increased by about 5.8% over the past year (2021).
Fossil fuels (oil, natural gas, and coal) accounted for about 82% of primary energy use during the past year (2021).
Studies and published reports confirmed that from 2014 to 2040, there is an expectation that global energy demand will increase by 25%.
Undoubtedly, this increase in the global energy consumption rate leads to a rise in emissions responsible for climate change.
These emissions are the most significant contributors to global warming, with the energy sector accounting for about two-thirds of greenhouse gas emissions.
how does the Ukrainian-Russian war affect legislation and usage of renewables, as some countries have already changed their policies and legislations and shifted to conventional energy sources?
Outcomes
There is no substitute for us living on planet earth, and there is no substitute for energy production to meet the daily needs of citizens. Still to preserve our planet, it requires concerted efforts of everyone in order to tone livable planet. We are facing an imminent danger to all of humanity, and everyone knows the problem and the solution, but what is the matter?
In order for people to live, we must produce energy, but how can the energy that we produce be free of emissions, how can we invest in clean energy and create more green jobs for future generations, and meet the needs of citizens and development needs, however, there is no alternative to raising awareness of the dangers of fuel fossil fuels, working to reduce factory and corporate emissions through their reliance on clean energy, increasing green spaces, working to encourage citizens and commercial and agricultural activities to use renewable energy, facilitating the transfer of technology used in new and renewable energy, and providing the necessary funding for scientific research on storage mechanisms for renewable energy And countries adopting ambitious energy strategies that depend on the energy mix and energy security in its comprehensive concept, and with clear time plans.
Gallery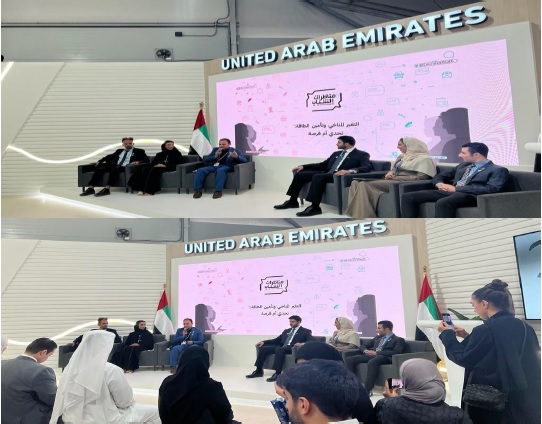 Panel: The Role of Green Economy in Encouraging the Government to Develop Legislation for Clean Energy Projects
Date: 11th of November from 3:30 PM to 4:15 PM
Location: Civil Society Pavilion - Blue Zone
Panelists:
Dr. Hesham El- Askary: Professor of Remote Sensing and Earth System Science Center of Excellence in Earth Systems Modeling and Observations Director Graduate Programs in Computational and Data Sciences Schmid College of Science and Technology
Dr. Mostafa Moussa: Director of the Valley of Science and Technology at Zewail City. Dr. Moustafa is also an Environmental expert specializing in domestic and industrial wastewater, solid waste management, environmental project planning, and capacity building.
Dr. Bradley Hiller: Lead Climate Change Specialist, Resilience and Social Development at the Islamic Development Bank.
Moderator:
Eng. Karima Waly: Environmental Project Manager at EVARA Group
Background:
Renewable energy sources can help countries mitigate climate change, build resilience to volatile prices, and lower energy costs. This is especially critical now as spiking fossil fuel costs, triggered by the war in Ukraine, are debilitating poor energy-importing countries.
For decades, economic and scientific organizations have urged leaders to create policies to promote renewable energy as part of vital global efforts to fight climate change. In addition to reducing carbon emissions, large-scale renewable power projects provide demonstrable economic benefits for investors, governments, and consumers who need reliable, low-cost electricity.
Egypt has begun to focus on the green economy as an essential and critical avenue of comprehensive development plans taking place inside the country. This can be achieved through the implementation of numerous projects commensurate with the economic and environmental priorities of the State, where the sustainable development strategy, "Egypt's Vision 2030", targets the ecological dimension as a fundamental focus in all development and economic sectors.
Theme of Discussion:
What's the green economy in simple words?
How is the green economy different from the business as usual?
What is the role of government and private agencies in the green economy?
Who is responsible for the success of the green economy in the country?
What is the role of policies and legalizations in the transition process to clean energy sources?
How did the renewable energy distribution change after the green economy trend?
How can remote sensing help us track the success of green economy projects?
how does the Ukrainian-Russian war affect legislation and usage of renewables, as some countries have already changed their policies and legislations and shifted to conventional energy sources?
Outcomes
At the beginning of the session, Dr. Moustafa explained the concept of the green economy and its main pillars. Dr. Mostafa also described the role of the government in developing green economy projects. Then, Dr. Bradely explained the role of the private sector in supporting renewable energy projects and the funds provided by banks to push toward green projects. Finally, Dr. Hesham explained how we could use technology and remote sensing to track the development of green projects and new renewable energy projects.
Gallery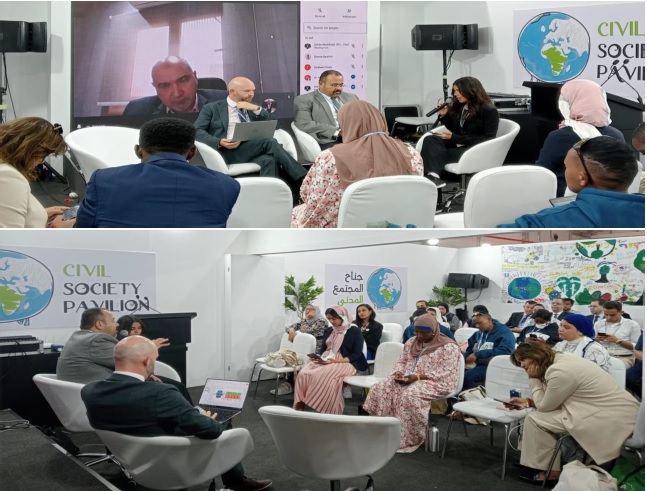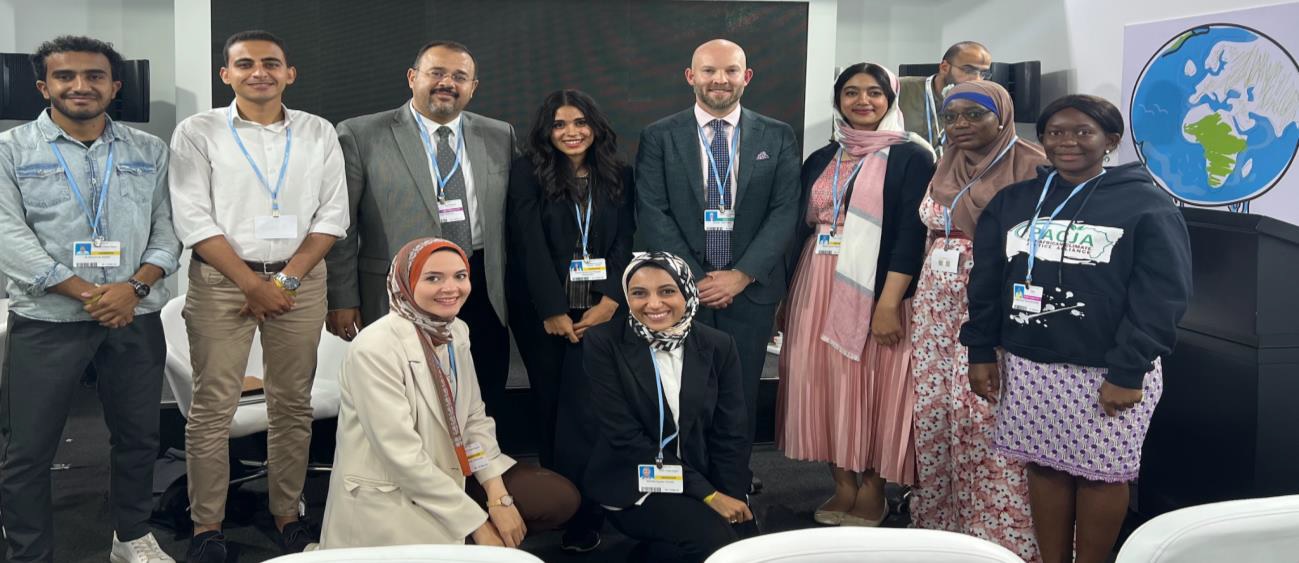 Climate Change and Loss and Damage Finance March
Date: 12th of November 2022
Location: Sharm El Sheikh
YLE Foundation's second march took place on the 12th of November to highlight the urgency and need for global action, as the current efforts do not correspond to the urgent need required by science and climate justice. We need efforts from everyone, both from the North and the South, the rich and the poor, the young and old, men and women; for we have no planet B.
The second march aimed to push COP27 decisions to yield outcomes with precise mechanisms under which the amount of climate finance reaching local communities is urgently increased, and barriers to accessing climate finance must be removed. All Parties should formally endorse the principles for locally led adaptation to the UNFCCC, including GCF, for impactful action at the local level.
Gallery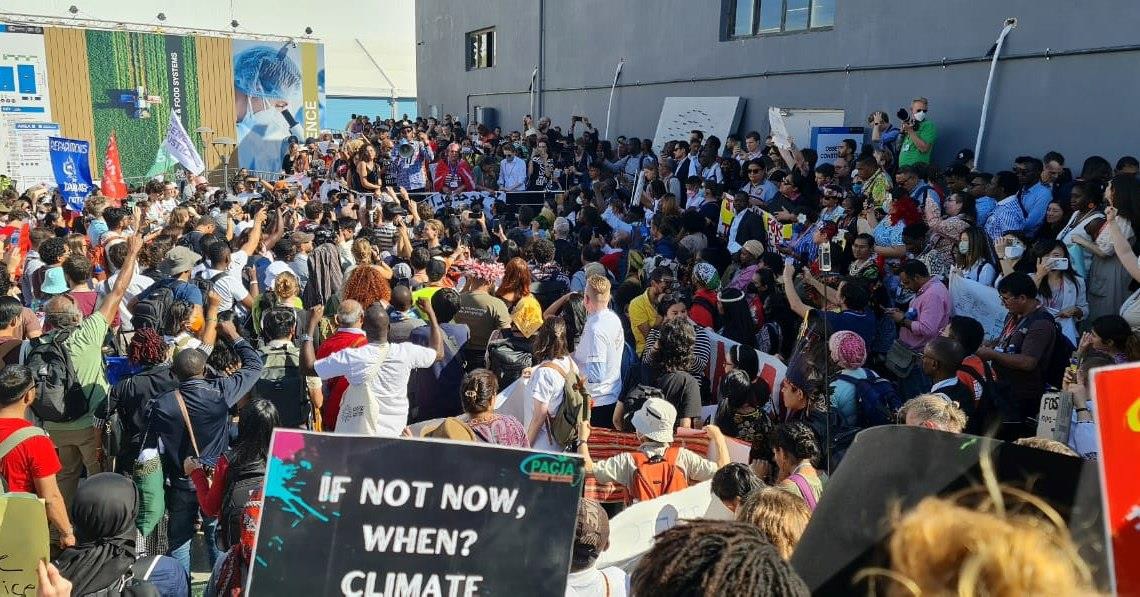 Panel: Spreading Hope & Empowering Action: (Youth Involvement in Social Movements - Youth Engagement in Global Mobilization)
Date: 14th of November from 5:30 PM to 7:00 PM
Location: Nordic Pavilion - Blue Zone
Panelists:
Heidi Solba, Founder, President, and Head of Global Network at Let's Do It World/World Cleanup Day
Cecilia Andersson, solid waste and mobility, Programme manager officer, UN-Habitat
Ahmed Fathy is the Founder and CEO of the Youth Love Egypt Foundation, and the Let Do It Egypt leader in Let's Do It World.
Moderator:
Helen Sulg, Head of Partnerships and Developments, Environmental Investment Centre Estonia
Background:
The panel starts with 3 min video about Let's Do It World/World Cleanup Day. LDIW will open the discussion about non-governmental organizations and youth involvement on the example of LDIW: how to involve youth, what are takeaways from current practice, and what recipe of success of LDIW? What are future trends? Panelists reflect on their ideas and experiences, incl country-based distinctions.
Theme of Discussion:
Personal perspective: how did you get involved in climate activism? What was the trigger or awakening? What was yours? Why?
Youth involvement in practice: what are good practices and challenges? What secret recipe for a successful social movement based on WCDs experience?
With voluntary work, we often hear about challenges related to financing, and sustainable results (like assessment and sustaining impact, dialogue, and communication); how to conquer them?
let's talk about the future: what are your ambitions for 2023, i.e., life after COP?
Outcomes
At the beginning of the session, Heidi explained the concept of "Let's Do It World" and "World Cleanup Day," what impact they seek, the best examples of youth involvement, and why it is so important. Then Cecilia shared Ideas and experiences of youth engagement, especially in the context of World Cleanup Day. Finally, Ahmed Shared the best examples from the last ten years working in civil society in Egypt in clean-up campaigns, Coy 17 and Cop 27.
Gallery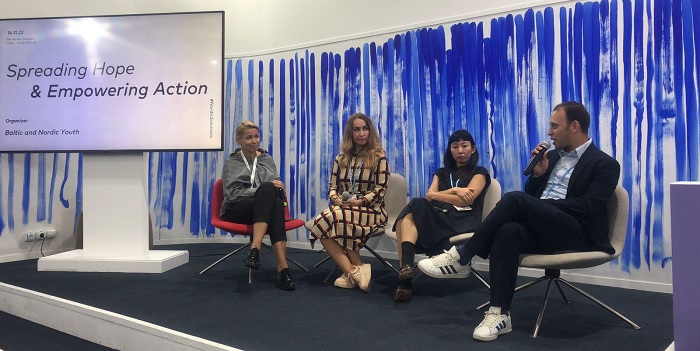 Prize Ceremony: Hack for Earth Youth Hackathon at COP27
Date: 14th of November 2022 from 4:00 PM to 5:00 PM
Location: Global Innovation Hub Pavilion – Blue Zone
Speakers:
Love Dager: Hackathon and Event Manager
Mustafa Sherif: Community Manager
Massamba Thioye: Project Executive UNFCCC Global Innovation Hub
Bernhard Kowatsch: Head of World Food Program Innovation Accelerator
Vladislav Kaim: UN Secretary General's Youth Climate Advisor
Ahmed Fathy: Founder, Youth Loves Egypt Foundation
Hira, Hafeez-Ur-Rehman: Youth and Community Engagement, UNICEF
Moderator:
Ann Molin: Secretary General, Hack for Earth Foundation
Virtual Participation: • O'Neall Massamba: 2022 and 2023, Youth Summit Manager, World Bank Group
David Jensen: Coordinator, Digital Transformation Program, UN Environmental Program (UNEP)
Nagel Almut: Adviser Societal Challenges, Green and Digital Transitions, European Commission
Golala Ruhani: Lead Policy Advisor, Digital Innovation, SIDA
Tremeur Denigot: Education Expert, European Commission Joint Research Center
Laura Veronica Munoz: Young Activist, UK
The seven winning teams of the Hack for Earth Youth Hackathon at COP27
Theme of Discussion:
The seven winning teams of the Hack for Earth Youth hackathon at COP27 will present their winning solutions at the Prize Cere. And a panel of high-level delegates will give input to the winning teams on the potential of the solution to create impact. Winners Varuna Blue of Hack for Earth in 2021 will share their journey from idea to prototype in the Build for Earth acceleration program; build for Earth acceleration program will be introduced and finally the Hack for Earth Award will be presented to the winners.
Gallery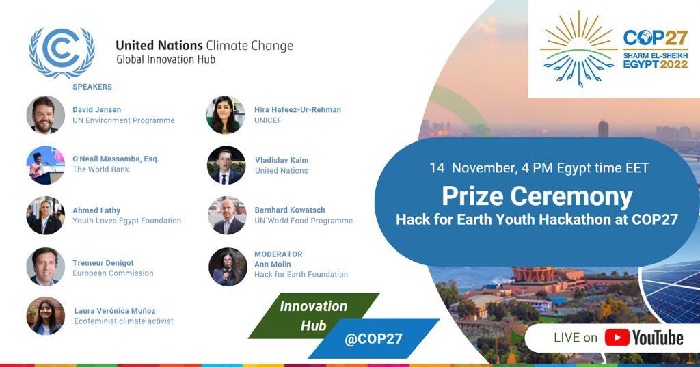 Panel: Raising the Capacity of Civil Society in The Field of Climate Justice.
Date: 15th of November from 6:15 pm to 7:00 pm
Location: Blue Zone
Background:
Climate change is happening now and to all of us. No country or community is immune. And, as is always the case, the poor and vulnerable are the first to suffer and the worst hit." - UN Secretary-General António Guterres.
It's undoubted that it is a very challenging time for the world as we know it today. This world has been home to millions of species and has been vibrant with life and beating with a marvelous celebration of creation and continuous evolution for millions of years. However, our impact on our beautiful home has not been as we wanted it to be. The scientific consensus has found multiple lines of evidence that the climate change that's happening all over the globe is Man-induced. So yes, it is our problem! And we need to solve it Now!
Even though climate change is universal by nature, its effects are found to be not of a similar kind giving room for what we call climate injustice to come to the surface. Climate Injustice's core pillar is that the countries and communities responsible for the enormous contributions to climate change suffer the least consequences. In other words, developed and industrialized countries are much better equipped to withstand climate change -at least in the short term- better than the more marginalized and disadvantaged communities. This process, in its nature, is entirely unjust, making the welfare of an individual somewhere in the world an existential threat to another elsewhere. Therefore, international coalitions had to be decisive about the mitigation, adaptation, and resilience agreements. Making room for robust frameworks to balance the scale through clear scientific and financial dialogues paving the way to a better course of action. It is obvious now that through our cooperation -and only through it- we might stand a chance of saving our planet and our future generations, but we need to be fast, and we need to start NOW.
Objectives:
The panel aims to raise awareness of the topic of "climate justice" and discuss its relationship with climate change and the position of civil society organizations' role in climate justice.
Outcomes
This session the representative of the European Union, Graziella Rizza, was attending the session, so we used this opportunity to introduce the efforts of YLE in different projects like the cleanup campaign of the Nile River also. We tried to use the opportunity to demand the support of the European Union in Africa, so It was a very fruitful session.

Panel: Plastic Pollution and Its Impact on Climate Change.
Date: 16th November from 15:30 to 16:15
Location: Civil Society Pavilion - Blue Zone
Panelists:
The panel discussion was organized around the remarks of four panelists:
Heba Momtaz, Researcher in personal status, Director of Public Relations and Communication at the Foundation, and the Foundation's official contact point at Coy17.
Hany Habeba,
Joe Bongay, Executive Director, Young Volunteers for the Environment.
Hanaa Hassan.
Moderator:
Eman Khaled, a student at the faculty of pharmacy future university in Egypt.

Background:
Plastic pollution does contribute a bit to climate change and slowing the production of non-degradable plastics has other significant benefits for natural ecosystems. Climate change and plastic pollution have many root causes, including the over-consumption of natural resources and non-renewable energy and insufficient recycling and reuse systems. And plastic pollution and climate change contribute to many of the same environmental problems, like biodiversity loss. Climate change also worsens plastic pollution's effects: spreading this waste further as weather and natural hazards intensify, weakening marine ecosystems, so they're less able to withstand plastic pollution.
Theme of Discussion:
why is plastic waste considered a severe problem?
How does plastic waste affect agriculture?
how does plastic waste affect climate change?
Millions of animals are killed by plastics every year, from birds to fish to other marine organisms; how does plastic pollution affect marine life?
what are the actions and implementation we need to do regarding this issue?
Outcomes
The panelist Heba Momtaz discussed the role of civil society in limiting plastic pollution, especially the role of the youth love Egypt foundation.
The panelist Hany Habeba reported the impact of plastic waste on agriculture.
The Panelist Joe Bongay focused on the impact of plastic on climate change and suggested the actions and implementations we need to do regarding the plastic pollution crisis.
The panelist Hanaa Hassan mentioned the Nile cleanup campaign launched by the youth love Egypt foundation to clean the Nile River on September 29 in all the governorates overlooking the Nile.
Gallery

Talk: Africa Youth Day
Date: 16th of November from 6:00 PM to 7:00 PM
Location: Children and Youth Pavilion – Blue Zone
Speaker:
• Ahmed Fathy: Founder of Youth Love Egypt
Theme of Discussion:
Mr. Ahmed Fathy gave the opening speech representing the host country, Egypt. Mr. Ahmed said how proud he is of each of the youth who made it here, and he was cautious to provide the opportunity when he could for the African youth to be present in COY17 and COP27 as Africa is the most vulnerable continent toward the climate changes and the most minor contributor to the emissions. He also elaborated the foundation's efforts toward delivering the climate justice cause to all African youth through various activities and our reach agenda of supporting raise climate change awareness in Egypt and Africa.
Gallery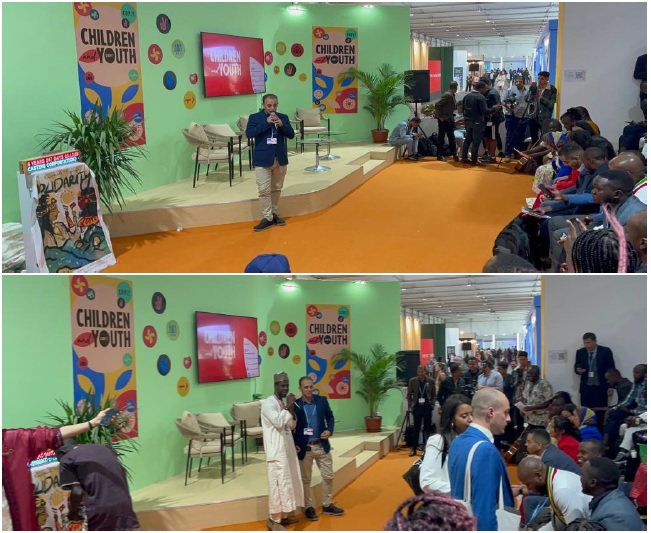 Youth Empowerment
Youth Love Egypt Foundation Worked on youth engagement and empowerment during COY17 & COP27, which provided the opportunity for 16 young men and women to work closely and participate in organizing, coordinating, and managing the COY17 conference through the work of specialized committees in all required departments such as (organization, social media, reception, photography, public relations, report writing) and then attending the entire team COP27 conference to learn and benefit from the event as they made vigorous sessions within the conference, which helped to provide them with more experiences that qualify them for better opportunities to start their lives Professional in the field of environmental and climate issues.
YLE Team:
Heba Momtaz: Researcher in personal status, Director of Public Relations and Communication at the Foundation, and the Foundation's official contact point at Coy17.
Adhm Mohamed: Bachelor of Science, Department of Environmental Engineering at Zewail University of Science and Technology, Environmental Engineer, and Director of Volunteers in the Foundation and COY17.
Omnia Hassan: Social Media specialist and one of the graduates of the Foundation's programs from the Climate Justice Summer School in Nairobi.
Karima Waly: Bachelor of Science, Department of Environmental Engineering, Zewail University of Science and Technology, and Environmental Engineer.
Tarneem Ashoush: Bachelor of Science, Department of Environmental Engineering, Zewail University of Science and Technology and Environmental Engineer.
Muhammad Zaalouk: Bachelor of Science, Department of Environmental Engineering, Zewail University of Science and Technology and Environmental Engineer.
Nourhan Beshir: Corporate Senior Sustainability and CSR Specialist with a bachelor's degree in Water and Environmental Engineering.
Hager Ebeid: Agricultural Engineer and a master's researcher in Environmental Engineering, specializing in smart management in climate change
Eman Khaled: Fifth-year student at the Faculty of Pharmacy, Egypt's Future University.
Ali Muhammad: Third-year student at the Faculty of Engineering, Department of Environmental Engineering, Zewail University of Science and Technology.
Suhaila Nasser: Bachelor of Science, Department of Environmental Engineering at Zewail University of Science and Technology, Environmental Engineer, and Teaching Assistant at Zewail University.
Ahmed Hafez: Bachelor of Engineering, Renewable Energy Department at Nile University, Renewable Energy Engineer, and Entrepreneur.
Samar Hassan: Fifth-year Student at the Faculty of Mechanical Engineering, Department of Thermal and Renewable Energy, Nile University.
Zeina Arafa: Student in the fourth year of the Faculty of Economics and Political Science at Cairo University.
Jasmine Tarek: Senior student at the faculty of engineering, Environmental Department, Zewail City for Science and Technology.
Aldoushy Mahdy: Assistant Professor of Aquatic Environment, Department of Marine and Fish Sciences, Department of Zoology, Faculty of Science, Al-Azhar University, Assiut.
Stats of Gender
Females: 11 members - 75%
Males: 5 Members - 25 %